May 07 - Yanito-Views #1 Gabriel Moreno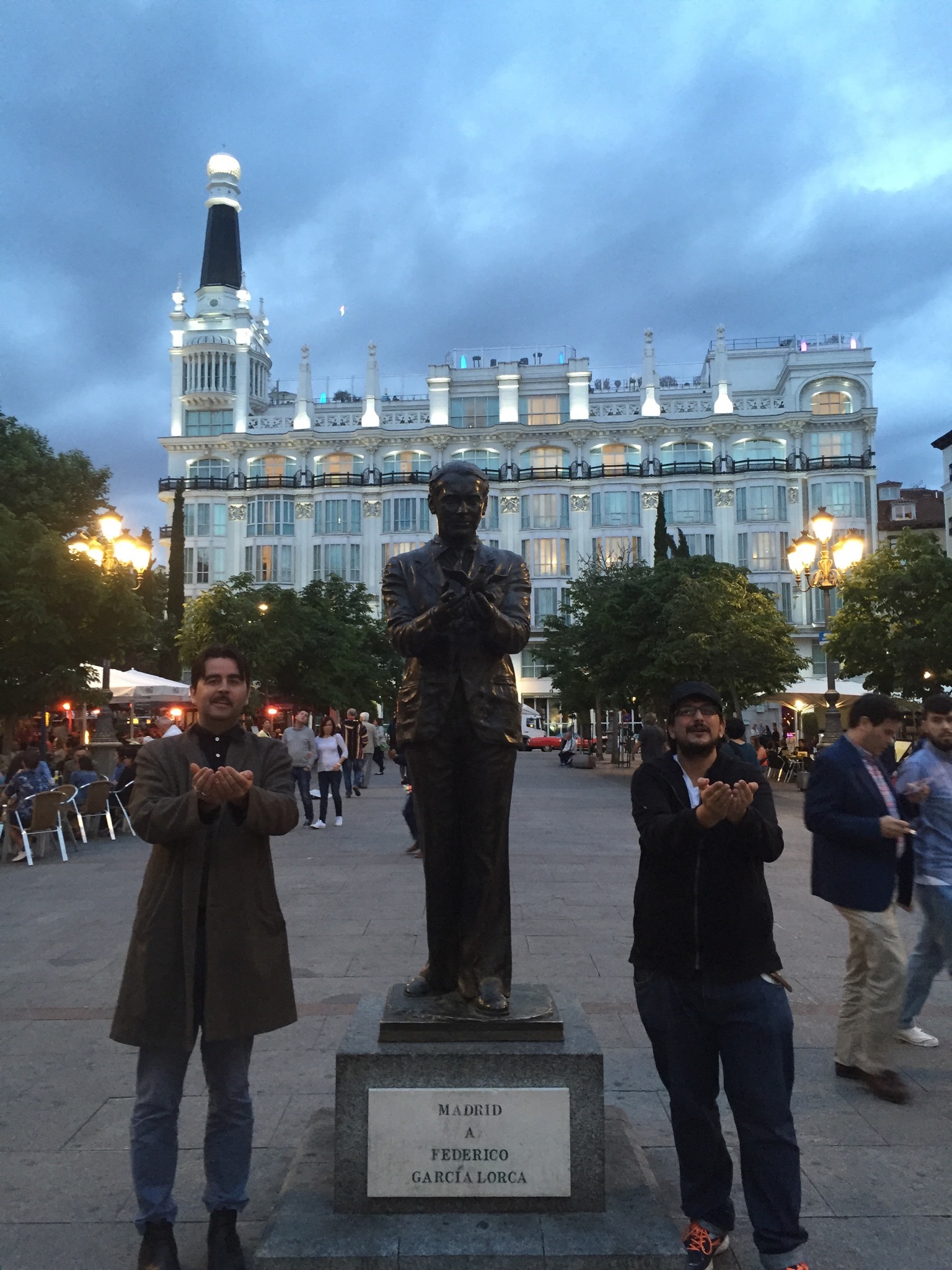 By Jonathan Teuma
Bueno, bueno, bueno, hello and welcome to possiby el primer blog en Yanito, en el history of the universe. Rick and Morty viewers out there estarán pensando que esto ya existe in millions if not trillions of dimesions out there –BTW if you don't watch Rick and Morty, que ta' ciendo shikillo!?!?!- Pero en este dimension ¡NO! Así que ahí vamos, and if I'm wrong, no corregidme, please, dejadme esta pequeña ilusión y tiremos pa´lante con el planteamiento. Tiremos pa'lante con este small celebration de nuestro peculiar vernacular, a la vez que descubrimos los thoughts and dreams, las inquietudes y aspiraciones de los local personalities que se atrevan a compartir sus Yanito-views with the rest of us.
Llegados a este point, it would be very remiss of me to go on sin darle las gracias a Giordano Durante, editor of this fine publication (me refiero al whole YGTV, no mi article) por darle el green light a este quirky project y creer como creo yo, que si hablamos en Yanito, porque no vamos a escribir en Yanito. To the rest of you I say, if you like it, spread it, share it with your friends ponerlo en Facebook, Instagram y Tweeter and if you don't, spread it, share with your enemies ponerlo en speak freely a ver lo que pasa…
So, without further ado, os presento a Gabriel Moreno. To be honest, desde el momento que Mr D. me dio el aforementioned green light, lo tenía clarísimo, the first one had to be Gabriel. Poeta, músico y amigo desde hace mas años than I care to count, este artistazo never ceases to amaze, ya sea con su pluma sobre el papel o sus canciones on the stage, el hombre acts like a profund remolino, taking you to the depths of your own self, helping you question your own contradictions, before pulling you out in a lyrical bliss que te deja outstretched and satisfied en la orilla of your own realisations.
I might have met him jugando a rescatar en los patios de Varyl Begg Estate o perhaps en el playground de Bayside, no lo se. Pero my first concrete memories of him eran jugando a basketball en el Landport y entrenando pa' lo Blue Stars. He was a year older y bastante mas alto que yo (still is, el joi'o), quite lanky y not as athletic as the other members of the team, pero buenísimo. He knew how to use his height y tenia un fixed spot en el first five de probably el mejor cadet y junior team de la historia de Gibraltar (sorry, Calpe, Bayside and Valmar, but you know it's true). Despite all this, lo que mas resaltaba de el para mi era su sensibilty. I mean at that age no lo hubiera dicho así, pero it was no less true que en ese competitive atmosphere en el que todos me intimidaban (bear in mind que yo era malísimo pa' basketball y encima más shiko agewise que mis team mates) he always knew, con pocas palabras, how to make me feel part of the team. For better or for worse though, ese time was short-lived as ensayos, gigs and girls supplanted training sessions y parti'os, as he started to take the paths and roads que lo harían el gran artista y troubadour he is today.  
El tío tiene published ya más de ten books in English and Spanish con Omicron Publishers y Anexxe, London. También tiene two albums con Amber Records UK, Love and Decadence, 2015 y Farewell Belief 2017. Musiquita where he blends folk music con sus Mediterranean roots, achieving thus a very unique and atractive sound. He has performed en UK, Italia, Peru, Spain y Gibraltar, ¡y no para el tio! Vive en los Londres where he regulary performs his music and poetry as well as hosting and curating other events, including el Poetry Brothel, The Betsey Trotwood y Kabaret @ Karamel. All this combined with his latest (and greatest?) adventure: fatherhood. Ahí vamos…
YV: ¿Qué pasa quillo, how's things?
GM: Bien…very good actually. Estoy leyendo a Nietzsche ahora mismo. Un libro que se llama Thus Spoke Zarathustra, creo que te gustaría. Es ruthless el tío, se carga a los políticos y a los poetas y artistas falsos. Le pega a toh dios, y en español La Tempesta di Mare de Leopoldo M. Panero, un poeta español que ha pasado bastantes años interned en psychiatric hospitals. Es tremendo, espera que te leo algo.
He goes off to find the book and promptly returns reading out verses such as, "…todo poema es una apuesta contra la nada."
Me encanta ese verse, he says with a grand smile on his face. Eso es really the essence of what we do, yo creo.
YV: Y que me dice de música, what are you listening to now?
GM: Sketches of Spain de Miles Davis, a great album que hizo con el composer, Gil Evans after un viajecillo con el por España. Great stuff.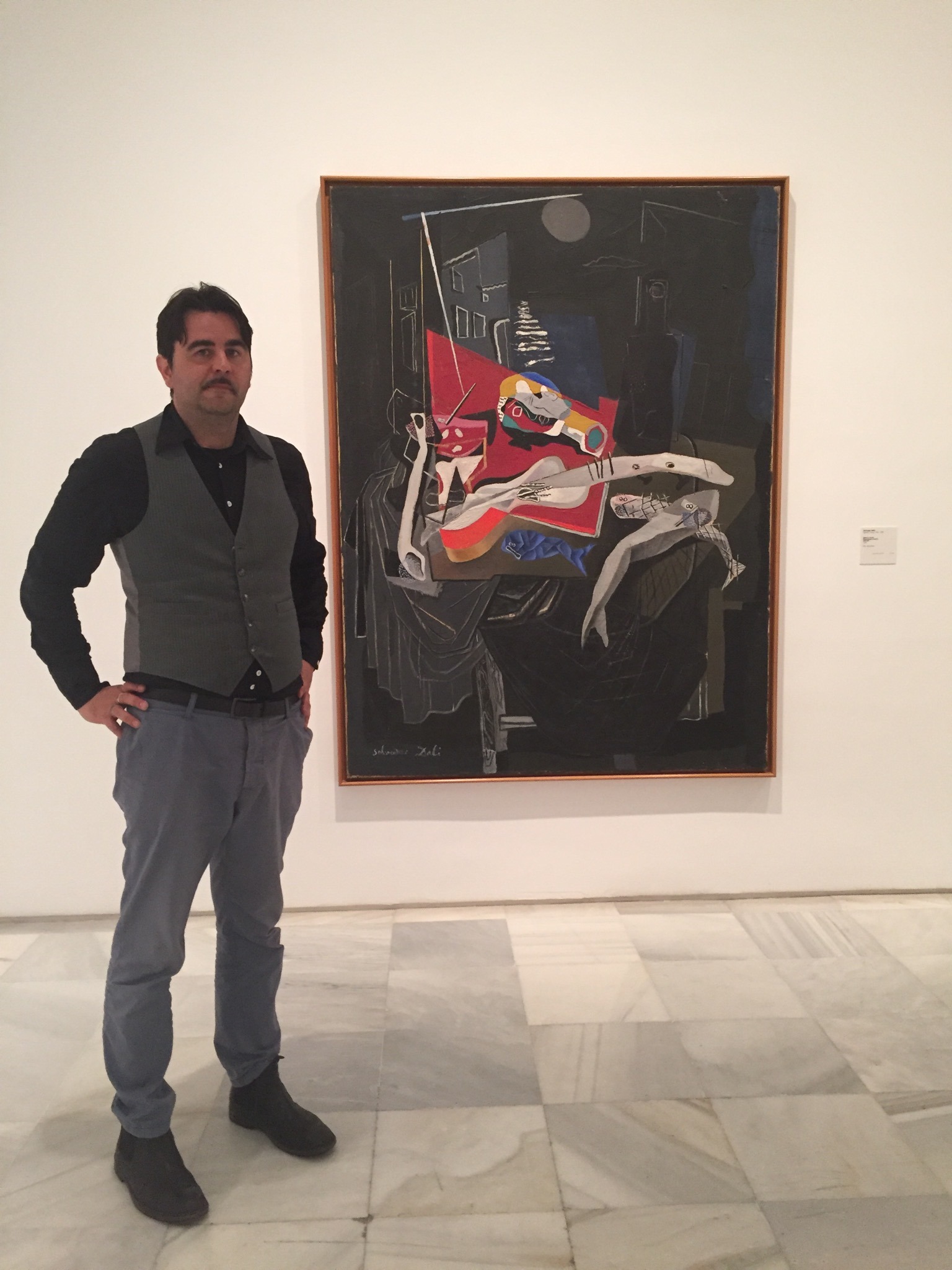 YV: How about you? ¿Que tal te esta yendo?
GM: Good, tengo una pila de poetry and music events going on all the time, cada semana hay algo. Estamos moviéndonos bastante con el grupo también- Gabriel Moreno and The Quivering Poets. We're releasing an Ep on the 15th May, Poetical Resistance se llama, y ya nos vamos de gira en Italy en May, then Germany in July y España en Agosto. Hopefully we'll get a chance to hit the Rock soon también. Y bueno, también me han dado some good news recently, me van a publicar el Lorca poem en Acumen Magazine ya pronto. I mean, it's not something that I was looking for, el meterme en el establishment ni na' but its good the get a nudge on from that sector también.
There's always been that gap between high culture y los antros, no? Los bares 'n all that, but that gap seems to be closing now. En gran medida es por el resurgence de performance poetry, con el spoken word, los poetry slams y artistas como Kate Tempest, que llegan a mucha gente. Es curioso el cambio, incluso en Gib se esta abriendo hueco la poesía. Me acuerdo cuando I started writing, muchos amigo míos no entendían lo que escribía or even el porque usar this medium, but now there's a more positive attitude to it.
YV: Aparte del music and poetry your also dedicating a fair amount of time to curating and hosting events. Tell us a bit about that, ¿que tal lo llevas?
GM: It's good. I mean, promotion is hard work. You have to deal con un poco de narcisism, no? El narcisismo de los rockeros you know. But to be honest, I only work with nice people and it's a pleasure to see so many good artists. I also do a bit of performing cuando presento, so I enjoy that too. It helps with networking aunque I can't take on too much or it would get in the way of my performances y claro the time I spend con el shiko. I do the Lantern Society en un bi-weekly basis y el Poetry Brothel once a month.
YV: That reminds me, ¿y el shiko? How's he doing?
GM: Great! He's two and a half now, ya 'ta empezando a cantar.
YV: Would you say that having a child has changed your creative appoach?
GM: Si, definitely. Lo primero es que it adds focus, no? To your work, professionalism. There's a dependence that you have to respond to. También te trae otros pensamientos, more affection, and morality perhaps.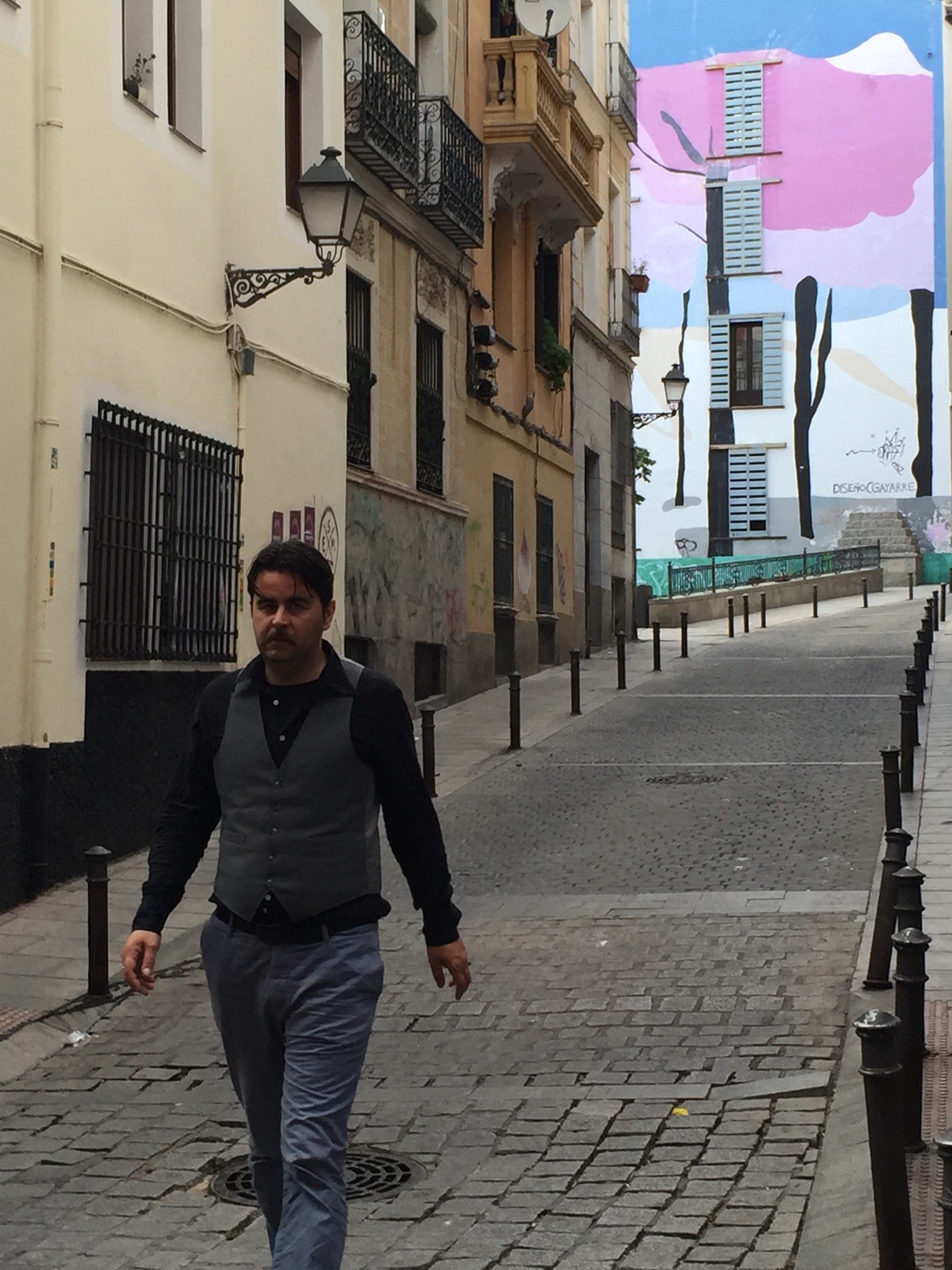 YV: OK un unfair question ahora, music or poetry, what's your first love?
GM: La verdad es que both of them. La música es parte de lo mismo, mi poesía es melodica, lirica and I'm always trying to incorporate both fields into each other.
YV: Fair enough, pero when it comes to creating que differences hay in your approach?
GM: Eso si, definitely. Songs always come from a melody, siempre tengo la guitarra encima y voy tocando mientras escribo. Poems on the other hand, aunque suelen partir from a sound van directamente al notebook. The processes are intertwined but not jumbled.
YV: Which leads me to la pregunta de rigor, seguro que estas harto de esta ya pero, who are your main influences?
GM: Bueno lo primero es Grunge, no? Toh esa gente de los 90´s, Cobain, Vedder, Weiland. Back when I started playing en Gib era lo que más escuchaba by far. Later came Leonard Cohen, que representa también un connection con mi padre. In terms of poetry esta Neruda y Lorca. Ese mundo de navajas y gitanos que pintaba Lorca was always a great attraction, siempre me ha fascinado. English poets también, Browning, Eliot, Wilde, but those came later en la escuela no me llegaban y no fue hasta my time in Barcelona que empecé a conocerlos.
YV: Barcelona, London, New York, Trujillo, La Serna… ¡Tu has esta'o por toh laó! ¿Con cual te quedas?
GM: Utrech perhaps, no es donde más tiempo he estado pero I liked it. It's hard to say though. El East Village de New York es de los sitios mas estimulantes that I've been to, luego pa' paisajes esta Peru y Chile aunque for work London's best, sin duda.
YV:Y coming back home un poco, what's your favourite Yanito phrase?
GM: Laughing Hacer el papel del oso!
YV: Nice one! Would you say that there's an underlying message to your work? If so, ¿que es?
GM: Dichotomies, diría. Si hay algo que transciende ya desde que hice Love and Decadence tienen que ser dichotomies. Entre poetry and music, English and Spanish, man and woman, belief and atheism. Lately también politics. Aunque it's not the best idea. Siempre he evitado meter política en mi trabajo but it's inevitable lately por el onslaught de neo-liberal ideas que nos están lanzando. Brexit is a symptom of this, it's part of a bigger global dissatisfaction that is fueled by the increasing class gap. People blame immigrants, though in reality they are upset with the system.
YV: Como esta el ambiente? In terms of Brexit.
GM: Mal, no hay la misma ilusión, hay baja energía y preocupación. En el mundo de la música conozco a varios musicians que están cancelando tours y gigs por el insecurity de no saber how long they can stay. Incluso afecta mental health. Cualquier cambio tan brusco trae eso, pero no hay que desesperarse. El show must go on.
YV: Thanks a lot Gabriel for your time y respuestas. On that thought, y por no quedarme yo con la última palabra, I leave you with my favourite tune by the great Gabriel Moreno, Joselin, y ¿por que no? con su latest single Lena Kalinka.
Jonathan Teuma is Profesor of English at URJC in Madrid, a poet and, as from now, a blogger for YGTV.
Pics: Top left: Jonathan and Gabriel paying homage to Lorca, Plaza Santa Ana Madrid, 2017
Middle 1: Visit to Reina Sofia Museum, Madrid, 2017
Middle 2: Roaming the streets of Lavapies, Madrid, 2017
Below: Gabriel outside Prado Museum (sometime in 2017)

{fcomment}