May 23 - Yanito-blog #1 "Con los tishe all the way!!"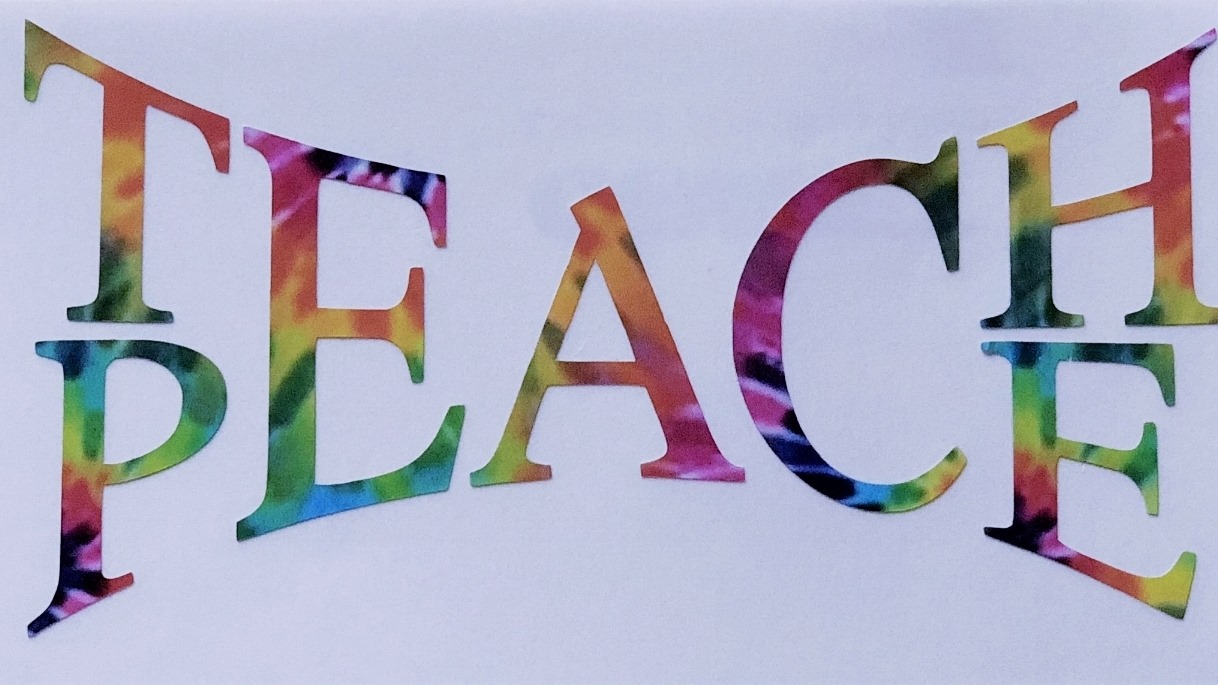 By Jonathan Teuma
Mira tu, que me estaba costando encontrar un topic pa'l primer Yanito-blog que me tocaba este mes. Un full on writer's block, pero como tantas otras cosas que me ha dado, llega Gibraltar y ¡BOOM! ¡Ahí está! ¿La puerta de Alcala? NO, el topic claro, el pay dispute de los tishe de Gib. No me voy a meter a full in the nitty gritty de los figures porque bastante bien lo representa Pablo Hernandez en este opinión column. Have a look si queréis before you go on with this one. Being a teacher himself la verdad que esta muy bien explica'o. Instead, I'll pick up on a couple of points he makes y también tratare to debunk algunos lies and misconceptions that can be heard por ahí.
Misconception #1. El Holiday Witch Hunt
Los tishe 'tan to'l año de cashondeo. All they do in summer is lie on the beach. 'Tan off half the year. Hmmm… estos typical statements about the teaching profession son bastante common, tanto in Gib como en otras partes and to be honest they reek of two things in particular: ignorance y envidia and they're both quite interconnected. I am a tishe myself and I can tell you que it's bloody nice to have summers, Christmas and Easter off, y eso que in my case no es the whole summer, just the month of August. Entiendo que people being exploited in other areas, particularly en el private sector, vean este time off on paper y se pongan green with envy. That said, hay que tener en cuenta que off in these cases no es tan off, y que even so, this seemingly extended time off comes at a price, o dicho de otra manera, no te lo dan por la cara.
Firstly, tanto Christmas como Easter are within the academic year, ¿que quiere decir esto? Que tanto before and after both Christmas y Easter hay classes, exams, coursework, homework, field trips, extra-curricular activity, ese niño who's falling behind y you have to figure out how to bring him back in line, esa niña who's getting bullied and whose bullies you have to deal with, etc. etc. and a long line of more etcs. Once again, ¿qué quiere decir esto? Que whilst on your days off (yes I'm talking to you, banker, postman, lawyer, basurero, politician, dental nurse etc.) you are truly off, ya esta, nothing to do but forget about work in whichever way suits you best. El tishe on the other hand esta marking homework, preparing/marking exams, planning lessons, dandole vueltas on how to engage those who disconnect or are falling behind, organising field trips, vamos in one word, PRINGA'O. Very often pringa'o up to the elbows. And guess what, pa' los tishe no hay overtime. All that work is done por amor al arte, the motivation for it comes from a heartfelt commitment to their students, your children, from the desire to see them prosper and reach their full potential.
Secondly, los veranos tampoco son tan largos. Teachers stay after your children have left y empiezan antes de que llegan. They often have to prepare themelves for changes in the curriculum, look for and prepare new materials and of course, prepare for the coming school year. Bear in mind también que knowlegde is not stagnant, it is constantly evolving. What we "knew" and taught, 5, 10 or 20 years could well have been disproven by now. As a result teachers have to continually keep themselves updated on developments in their fields. Teaching styles also evolve over the years. As more and more work is done en los fields of education and psychology we learn of new and better ways to engage and empower students (it's quite exciting really) and teachers also have to update themselves on new approaches and methodologies. When do they do this? Pues en verano mostly.
Misconception #2. El Sexy Schedule
Los tishe salen a las tres y cuarto/tres y media y ya esta, toh la tarde de cashondeo. No, pishita tus hijos salen a las 3 y cuarto/tres y media, los tishe have a quick cuppa and spend their afternoons, evenings and weekends marking homework and preparing classes. O te crees que to effectively transmit information to children and adolescents vale con ponerse in front of the class and draw from divine intervention? Cada class es diferente, cada student un mundo, conque even if the subject is the same la manera de impartirlo cambia from year to year and class to class. Los tishe saben esto y pasan bastante tiempo dándole vueltas a como asegurarse de que tu hijo/a se entere bien de lo que se tiene que entera. And just to reiterate, el homework (y classwork for that matter) no se hace marking solo y no se puede hace marking from 9 to 3. Vamos, que when you add it all up los tishe tienen bastante menos time off than what is believed y bastante menos time off que many other professions.
Misconception #3. El Easy Job Syndrome
Es faci' ser tishe, all you have to do is stand there y hablar de lo que ya sabes. Este me lo han dicho a mi a few times. No, tu na' ma' tiene que enseña tu language, que ya lo sabes, eso no implica any effort. Makes my blood boil. Saber algo no implica saber como enseñarlo. Cada learner tiene sus propios circumstances and ways of learning. A good teacher is sensitive to that and works on adapting his/her teaching style to the students before them at each moment. It's not a question of memorising a script and then spewing it out año tras año. Plus you may not always be teaching the same class. One year you may have more A-level classes and the next be teaching year 8's and 9's y no es lo mismo to deal with 17 year olds que with 13 year olds, hay que adaptarse y prepararse to do it well. También, as I mentioned earlier, teaching styles and materials evolve. Los tishe tienen que estar continually updating themselves if the want to be effective. Esto no es fácil and involves a lot of time and dedication.
Anyone who is a parent will know lo difícil que es educar a uno o dos niños. Po' imagine 25!!! At the same time!! Cada uno con sus qualms and complexes, con su particular energy. It's not easy at all y el desprestigio que this profession is under means que más y más children llegan a class con menos respect for their teachers. This translates into more disciplinary problems in the class and more drain on an already strained profession. It is not easy at all and in fact, its getting harder all the time. Dejo aquí un quote de Mr. Hernandez que se refiere a just part of all this.
For the last 40 years the teaching profession has absorbed incremental levels of educational, behavioural and pastoral work inside and outside of working hours. 
Misconception #4. El Snobbery Syndrome
¿Cómo va a ganar un tishe igual que un lawyer, un engineer o un doctor?
¿Por qué no, exactly? A ver si alguien me lo explica. For starters, sin tishes no habría ni lawyers, ni engineers, ni doctors. Ni anything else for that matter. Education es la base de todo in our society, why not give it the respect it deserves? Como bien dice Hernandez en su column,
The salary of teachers should reflect the graduate training received to obtain qualified teacher status, the high levels of workload and their continued professional development.
Teachers train and work as much or more than lawyers and provide a useful service to society. Y nadie esta diciendo que they should earn more than lawyers (which they should, in my not so humble opinion) pero, why should they be struggling to make ends meet?
At the end of the day it's a question of what we want pa' nuestros hijos. Parents are always quick to say que quieren lo mejor pa' sus hijos and parents know very well que lo mejor has a price, que lo barato sale caro. So why would teaching be any different? It comes down to this: do you want your child's teacher to come into the classroom feeling respected, with ease of mind and 100% focus on the development of your child o quiere que entre stressed out, with half a mind en como va a pagar el mortgage/rent este mes and run down from having to take on extra work (ya sean private lessons o otherwise) to complement their salary?
The case is often made that politicians should make a good salary so that they avoid making illicit extras on the side. Esto ni se le pasa por la cabeza a un tishe, pero how about, teachers should make a good salary so that they are in a position to give the absolute best of themselves to our children, no tiene peso este argument?
Y esto me trae al final question. Why aren't parents massively supporting teachers? I recently saw a post by another local teacher expressing concern about comments being made by people on social media, which degraded the teaching profession in general and berated their pay claim. Hernandez is also worried by the fact that Government is allowing its activists and party machinery to wage an open war against teachers in the media/social media. Piénsatelo, open war on teachers. Obviously no toda esta gente van a ser parents, pero by pure law of statistics, many of them must be and many of those who aren't will be. This is about all of us porque education nos toca a todos. It goes beyond mere party loyalties. Pero bueno to each their own. Eso si, if you ask me lo tengo claro, I am con los tishe all the way.
Jonathan Teuma is Profesor of English at URJC in Madrid, a poet and a blogger for YGTV. 
{fcomment}