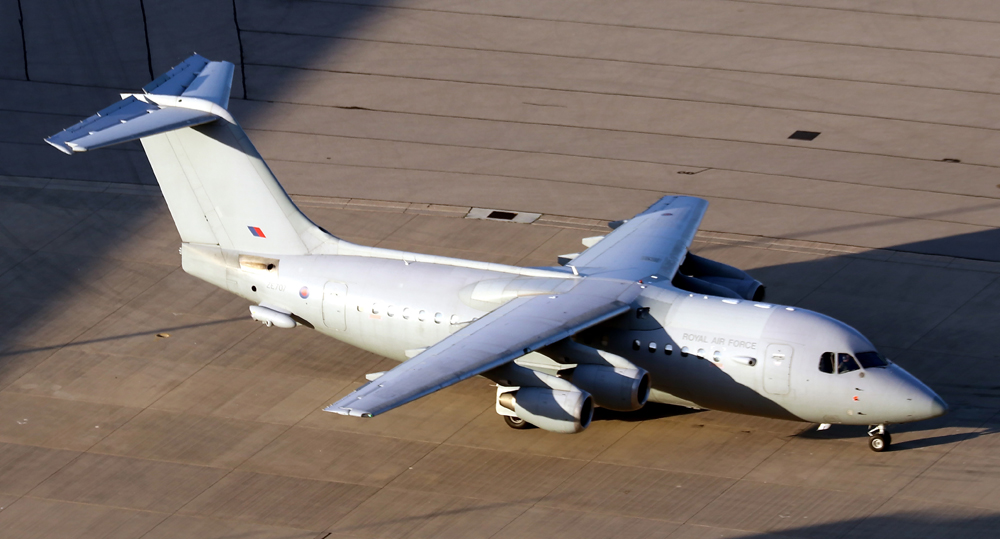 Military Movements Review: October
YGTV's article series continues - each month, David Sanchez will review military visits to the Rock. Drawing on his in-depth knowledge and photographic skills, the articles will provide readers with valuable background facts to the aircraft and vessels that pop into the Rock.
By David Michael Sanchez
As predicted in my last instalment, October has proved to be a very disappointing month for anyone seeking the reassurance of a front line naval unit visiting our shores due in part perhaps to the fact that many Royal Navy vessels took part in the Joint Warrior exercises off Scotland.
Nonetheless RAF Gibraltar has seen a steady drumbeat of arrivals with the end of the month treating us to a rare sight locally. Additionally the United States Department of Defense has once again chosen to use our bunkering facilities after a short hiatus away from our waters.
At sea we had one military visitor which took place on the 25th of October in the shape of the RoRo M/V Eddystone. Aside from this our two old friends the United States Department of Defense Maritime Security Program tankers made a much-welcome return to the civilian anchorage with M/V Overseas Mykonos calling in on the 16th and Overseas Santorini arriving on the 27th from Ingleside, Texas on her way into the Mediterranean. Despite the lack of visits we were lucky to host our now-familiar HMS Scott throughout the whole of the month, making her stay one of over 6 weeks' duration. So long has her stay been that I am sure her distinctive shape at 41 berth (The Tower) together with her charming penguin funnel badge will be missed when she does depart the Rock.
Looking at RAF Gibraltar it will be seen that we have had a relatively high number of transport visits of various types with the now-familiar A400 leading the statistics. It would seem that a visit by our well-loved and venerable friend the C130 Hercules will be a rarity from now on. Such are the times we live in that an aircraft once so familiar that it hardly raised heads is now seen as a monthly highlight!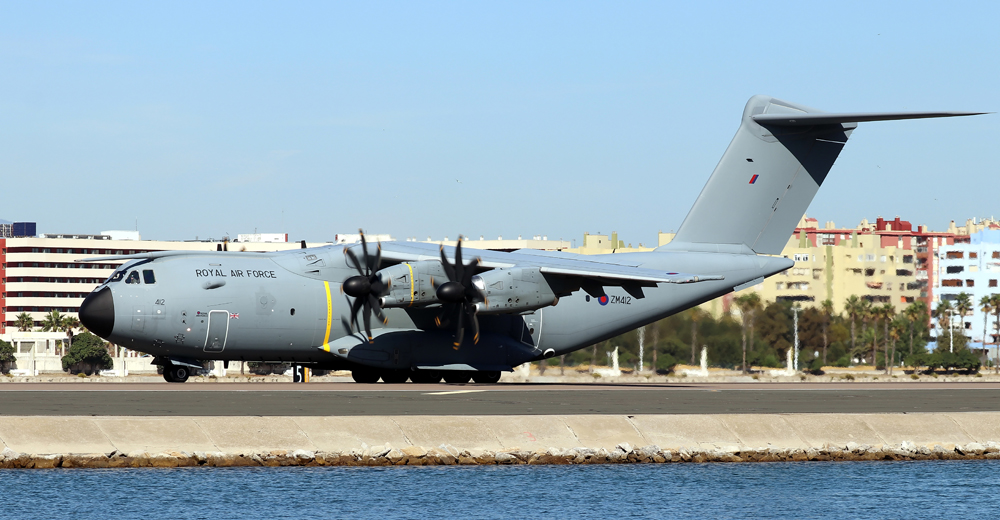 The visits began with A400 ZM415 arriving on the 2nd and repeating her visit a few days later on the 6th of October. A 10-day pause then ensued which was broken in spectacular fashion by the impressive sound and size of C17 ZZ173. This was followed by a trio of further A400 arrivals with ZM412 the next day, ZM413 on the 26th and returning on the 27th. The best was saved for last however with our final visitor of the month. On the 29th we were treated to the relatively rare sight of BAe146 ZE707 calling in. These grey, four-engined transport aircraft, identical to the type once operated by Dan Air here are a roughly twice yearly event, being seen much less than the over familiar A400 or C130. The fate of these machines is unclear due to budgetary measures so it is sad to report that we may have seen our final BAe146 visit to Gibraltar.
There was activity on land too in October with O and P companies of 43 Commando Royal Marines holding exercise Serpent Rock 19 in and around the Rock and City. This elite unit is tasked with the protection of the United Kingdom's nuclear weapons stockpile and attendant facilities and it is quite significant to have them visit us for training. The press reports inform us that this serves to push them out of the comfort zone of their usual operational areas of the Clyde and Coulport. I do hope that, considering that Gibraltar hosts one of the only nuclear submarine capable Z-Berths in the region, this is a symbol of our continued importance in cornering that particular section of the naval market, something which we have managed to retain despite losing so very much influence and relevance to nearby facilities such as Rota.
Linked to this is the sobering fact that a large NATO exercise took place in the Strait during October with a number of vessels from the Spanish, Belgian, Canadian and United States Navy taking part and none from the Royal Navy. Unlike the halcyon days of yesteryear with Exercises Open Gate or Springtrain, when we would be the focal point for this sort of thing, Gibraltar played literally no visible part in these manoeuvres. If anything is a symbol of the plummet in relevance which we have suffered regionally this is it. The simple, unvarnished fact is that we are largely  irrelevant to NATO allies as a naval base so long as Spain's continued dissuasive political pressure on foreign warship visits remains unattended to, 'so as not to rock the boat'. Official soundbites stating our 'vital importance in providing support for allied nations' is therefore now completely disregarded among any semi-observant onlooker unless it refers to the United States. This isn't sour grapes, it is a statistical fact.
Ending on a lighter tone however, we begin to close the year with some optimism, no, it hasn't seen a blockbusting visit, no we still inexplicably have fast jets totally absent from our skies but we have had a few first visitors and some interesting days. Let's hope the best is saved for last and 2019 goes out with a flourish!
David Sanchez is a local military enthusiast and photographer with a degree in International Relations and Strategic Studies.