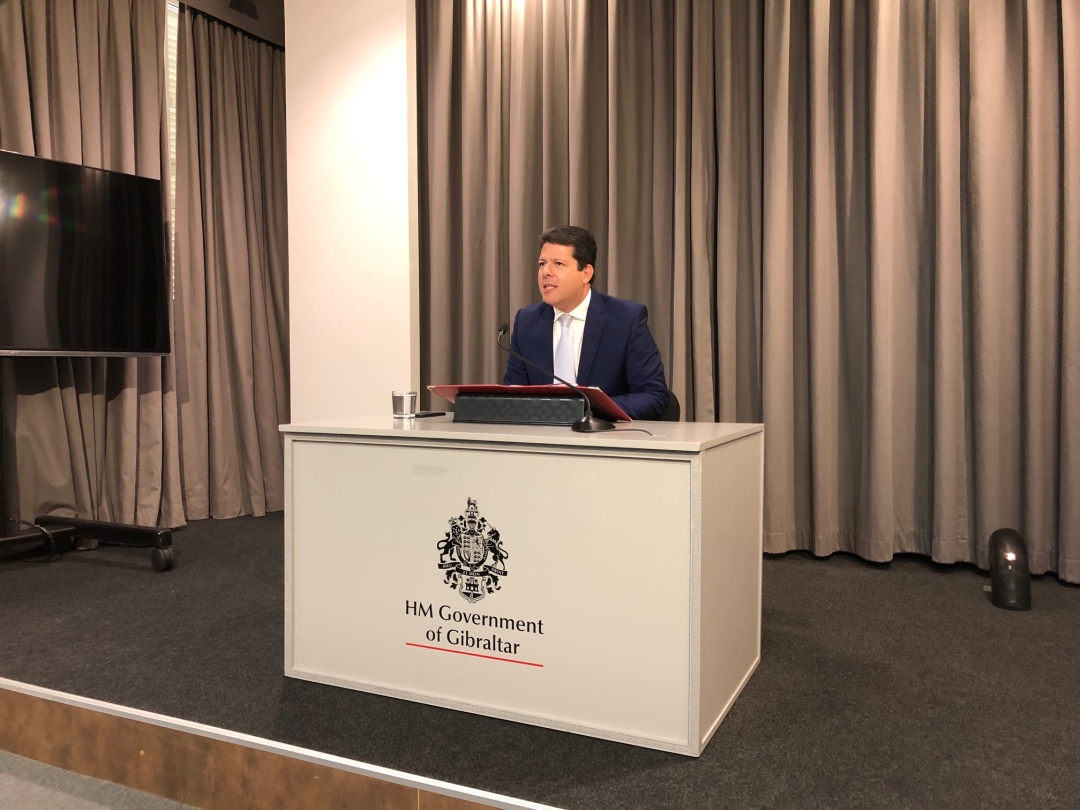 Chief Minister's Statement As Rock Enters Phase 5
Below follows the Chief Minister's statement from this morning's press conference:
Welcome to No6 Convent Place.
This morning, we start PHASE 5 of our strategy to UNLOCK THE ROCK.
It is obvious we have a very good story to tell on the receding level of infections and the number of active cases.
Having been involved in these press conferences throughout the pandemic period, I can tell you I am delighted to be able to report to you today:
That we now have another day of ZERO active cases in Gibraltar. 
Tomorrow it will be a full TWO WEEKS, a full fourteen days, of ZERO active cases in Gibraltar.
We are now able to report a full THREE WEEKS with no new infections.
In fact, a total of TWENTY-TWO DAYS without new infections in Gibraltar.
We have detected one case.
That case arose in a new cross-frontier worker who was asymptomatic.
The person turned up to start work at ERS, their first day at work, and was subject to the routine frontline test for new entrants.
The person tested positive.
There had been no contact with patients when the test result was returned.
Others who had been in contact with the person are being monitored. 
The details for contact tracing have been sent to the Spanish health authorities. 
The person is now self-isolating at home in Spain. 
The number of swabs now taken is 12,743.
We have only one pending swab result today.
And of those, we have had 177 confirmed cases.

So on that basis, we can now move forward with the unlocking phases as we had anticipated we would. 
We are able to look at PHASE 5 and undertake positively the reviews that we intended we  should carry out at this time in the process of unlocking.
In our UNLOCK THE ROCK document, in PHASE 5 we committed to review the restrictions on public gatherings as from today if things were going well. 
Also today, you will receive your last text message from Gibtelecom.
The figures will continue to be published by the Government on our social media pages and as press releases for all media.
But there is no need now for a direct text message to all individuals who have a Gibraltar mobile phone.
We will review this if infections start to rise meaningfully again.
There has been a lot of technical work to be able to deliver this text message every day. 
So my sincere thanks go to the great people at Gibtelecom and in our press office for the work they have done to keep pushing those text messages out there every single day. 
In the GHA, as from the 3rd July, which is Friday, the full list of interventions and screening will be available and full clinical activity will restart. 
We continue to urge caution but we are able to move forward. 
As things are going well, therefore, as from today the restrictions on gatherings will be loosened so that the total number of persons who can gather together will go from 12 to 20 
Similarly, the maximum number of people who can sit together at a table in a restaurant will increase from 6 to 10.
There is an element of symmetry here of course, you will understand. 

We are working to have the numbers in restaurants as around half the numbers for gatherings. 
Additionally, now that we have had THREE WEEKS without a new infection we can also move to relax the curfew we imposed on opening hours.
The curfew at bars and restaurants is therefore now extended to 2am.
I want to thank the newly formed Gibraltar Catering Association for their insight on these issues during our recent meeting. 
Together with the work we have done with CELAC, we have calibrated the assistance we will be giving to companies now in July, August and September.
This is alongside the guaranteed loan scheme that the Government sought and obtained Parliamentary approval for last month. 
Tomorrow, I will be making further announcements in respect of import duties as the new month starts.
I am pleased to be able to advise all firms applying for B.E.A.T. Covid 19 support measures that all applications received by the Government before the 30th June  (including those applications received prior to the 18th June) will be processed and paid on or before the 10th July.
Applications on the Government Website must be submitted in the usual manner by the 30th June. 
This weekend, we have seen the Telegraph and the Mail carry very positive articles on tourism in Gibraltar. 
We expect to start to see more flights into Gibraltar very soon.
We will also now start the reopening of our tourist sites and the Nature Reserve during the course of this week and throughout this PHASE 5.
Additionally, we continue in contact with the United Kingdom Government on matters related to air bridges and any announcements that will be made in respect of those.
Also this weekend Gibraltar has received very favourable comment in the Financial Times as a result of the working of our BEAT COVID app. 
I am told that any issues anyone with an Android phone may have had downloading the app have now been resolved.

Remember to find the link for the app for Apple or Android devices on the Government's web page.
Remember the relevant page is: 
www.gibraltar.gov.gi/covid19
This very positive commentary in the FT comes alongside the very positive comments also in The Economist some weeks ago on our GOLDEN HOUR schemes.
GOLDEN HOUR and SILVER HOUR will continue.
They have been a success and we will work to see them remain available for our elderly and vulnerable. 
There has really been quite a remarkable level of positive international comment on Gibraltar's management of the pandemic, and I am really proud of that for all of those who have worked so hard on these issues behind the curtain.
In respect of the area of sports and leisure, the positive results we are seeing with the absence of community infections and low or zero cases means we can progress matters also.  
In the Bayside Sports Complex, football has already started with the Senior Squad. 
I saw the Senior GFA Squad training very early on Saturday morning.
The Juniors will follow in the coming days. 
The GSLA is working together with the GFA who will have reps on site to be able to manage Public Health requirements.   
All other team sports will, as from the start of PHASE 5, that is to say, today, will be allowed to practise attack & defence drills. 
The restrictions of 12 to a group will continue in these closer, more intimate practices and settings, and associations are asked to respect this until the next phase which is phase 6 which will start on the 15th July. 
The GSLA will continue to work closely with those  associations and the director of Public Health to make sure that they are able to practise and train in the safest manner possible.      
Rhythmic Gymnastics has been able to practise by using special mats which can be easily sanitised. 
The carpet that they usually use will not be available  to be used until further notice due to the fact that the Virus can last up to 7 days on that type of material. 
Athletics time trials can be held on the track as from the today and these are expected to start soon whilst also observing social distancing guidelines.
Other sports such as padel tennis have been able to play as normal with players contact details recorded and kept on file for a maximum of 10 days for contact tracing purposes.
The GSLA will at all times to be in contact with all sports associations with a view to the further opening up of sporting facilities and liberating of relevant practices whilst taking all relevant Public Health Advice into account in the appropriate way.
Since activity restarted, the GSLA has conducted 21 spot checks on different sports to ensure compliance with new rules and advice and no major issues have been detected with any sport in any of those inspections.
At the 25m Pool, all has been going well with GASA and the Triathletes, as well as with public bookings.  
GASA will now be able to move to sessions of 12, which will free up time to increase public bookings.
At the Accessible Pool the uptake of allocations has not been as high as expected. 
The GSLA is monitoring this with a view to return to a normal summer schedule here after 1pm. 

We hope to be able to confirm this even before the start of PHASE 6 if possible. 
The Accessible Pool will be used during the mornings by the very successful STAY & PLAY programme which will be running during the summer. 
STAY & PLAY will, in fact, start on Monday the 13th July.
In respect of this popular programme all Sports Leaders and assistants have now been interviewed, selected and notified of their appointment.
Their induction programme will start on Thursday of this week. .  
At the Europa Pool the uptake by the over 70's during their set times has increased, I'm pleased to say. 
The GSLA has installed special steps which aids the access to the pool substantially.
This has been very well received by all. 
At the Bathing Pavilion all pools have been cleaned as has been the case now since its opening.
This was as part of the routine fortnightly cycle and does not encroach on users.
This is scheduled in this manner as previous experience shows that algae (although completely harmless to users) will accumulate within 14 days or so. 
Now let us remember that we have been successful in our fight against the virus until now because we have been prudent and we have been careful.
Let us continue to be prudent and careful.
Let us therefore continue our success.
Thank you very much for your attention.