Feb 14 - GGR Welcome Civil Partnership Legislation on Valentines Day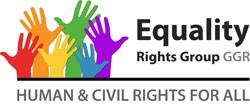 The GGR has today welcomed the recent public announcement regarding the drafting of the proposed Civil Partnership Bill. A spokesman for the group explained that the situation will now move the group towards further discussions with the Government. They added,  'we thank Government and the Minister for having facilitated this process in such an open manner. Indeed, after 13 years of campaigning on this matter, it was an emotive and historic moment for us when Minister Sacramento took the trouble to hand over the draft Bill to us in person, rather than through the post.
 'However, from the constant requests for information we have been receiving from all quarters of the community, we understand that there has been concern regarding what appears to be a delay in the enactment of this legislation. Let us be clear: if anyone is to blame for this, it is Equality Rights Group, not Government. We have insisted all along on our preference for taking the proper and adequate time necessary to ensure this complicated and much-awaited law is properly discussed in all its detail. We have waited over a decade for this, and a delay of a few months in order to ensure the best consultation and discussions occur in order to secure the best possible outcome for all has, in our view, been more than justified.
'Furthermore, we also welcome Unite the Union's published call for Civil Partnership to be equally extended to cover not just same-sex couples but also opposite-sex partners who would prefer to have the same options as the gay community for entering into a recognised partnership rather than a marriage.
'The reasons have been clearly set out by Unite's statement recently, and where the option has been made available to heterosexuals, the evidence is clear that there is a growing preference and demand for such an option. In our view, to leave them out of the equation would be a regrettable and unequal move, and the new law should be equally applied across the community without distinctions. On Valentine's Day, therefore, we extend our congratulations equally, to all couples, regardless of gender or sexual orientation.'