Mar 20 - New Bus for Mount Alvernia Route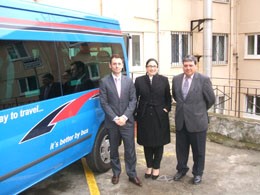 The Ministry for Public Transport, in conjunction with the Gibraltar Bus Company, has today announced the purchase of a new Mini bus that is set to meet the needs of the daily services to Mount Alvernia.
Following the introduction of bus route 7, which goes directly to Mount Alvernia, the Government received a number of representations on the need for a new bus to follow the new route. The vehicle was purchased locally from Lucas Imossi Motors Ltd.
Commenting on the new bus, Minister Costa insisted that the Government is fully committed to the renewal of the aging fleet of the Bus Company, with ECO friendly buses. He added, 'due to delays of spares of one of the older mini buses, it has been necessary to purchase this new Ford Transit Minibus which has been in service on the Mt Alvernia route and Both Worlds route since 4th March'.
Minister for Equality and Social Services, Ms Samantha Sacramento noted, 'the route is used by some residents but mostly by their relatives and visitors, many of whom now visit more frequently. It also helps members of staff, given that there is very little parking available at Mount Alvernia. The initial route was reviewed and extended following consultation between the Ministry for Transport, the Gibraltar Bus Company and the Care Agency. We have received nothing but positive feedback since the introduction of this much needed service which is now enhanced with the provision of a brand new bus