Mar 21 - TA Soldiers Retire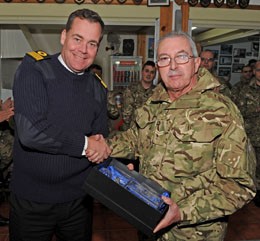 TA soldier CSgt Llanelo was given a leaving presentation by Commanding Officer Lt Col Colin Risso following 39 years of service.
CSgt Llanelo joined the Regiment in 1974 and has remained an Infantryman throughout his career. As a Cpl he was a section commander and part of the Recruit Training Team, he undertook numerous courses while serving including Range Management and NBC Instructor and his final role is B Company Training SNCO.
Also retiring from the TA recently was oldest member, 65 year old Cpl Francis Chipolina who joined the TA as a percussionist and vocalist in the RG Band in 1992. Since then he has served in Bosnia, Northern Ireland, Morocco, Ascension Island and the UK and has been called upon to perform solo's at many high profile engagements both at home and overseas.
Musician Chipolina is a retired Gibraltar Bus Company Inspector and now devotes much of his time performing for charity, in particular the Mount Alvernia rest home for the elderly, where his singing is much loved and appreciated. 
Bandmaster WO1 Craig Philbin noted, 'he will be a huge loss to the Band, not only for his contribution as an excellent musician but as an exceptional character that has the rare ability of a man who can lift morale in a heartbeat.'


{load position dailynewstop}