Apr 25 - Tradewinds Tenants Oppose Floating Hotel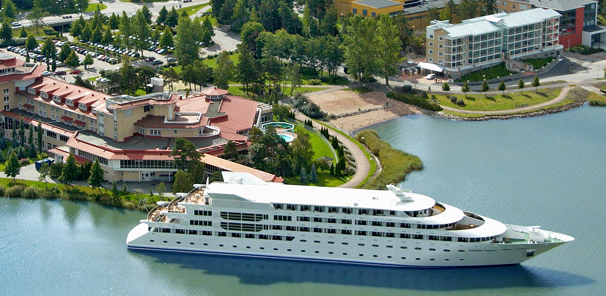 During this morning's meeting of the Development and Planning Commission, the proposed Government project, to berth a Super Yacht Flotel at Marina Bay, stirred an extensive debate, with one resident of Tradewinds completely opposing the plan due to its almost inevitable issues of increased vehicular traffic in the Ocean Village area, as well the matter of reclaimed land by the Gala Casino, which would act as a car park for the hotel.
The floating structure will have 167 guest rooms, along with bars, restaurants, conference rooms, a spa and a gym, and is set to be berthed behind the Gala Casino, parallel to Marina Bay. The ship, the Deputy Town Planner explained, is set to be 140 meters long.
Invited to speak to the panel, who were taking into consideration the public and members of the Commissions' comments, Mr William Leay, resident of Tradewinds expressed his view that the project would have a visual impact that would be detrimental to the entire area. Mr. Leay insisted that a preferable area for the vessel, would be the Ferry Terminal.
Mark Isola, representative for the Tradewinds Management Company, noted that the Ocean Village area is frequented by a lot of school children, and so the possibility of traffic passing through the area could be dangerous.

Commenting on the project, Dr. Cortes, Minister for the Environment added that the Hotel would help bring economic benefits to Gibraltar. He explained that the reclaiming of land in the area of Marina in front of Tradewinds would not prove environmentally detrimental.  He claimed that the area is already fairly contaminated.
Dr. Garcia stated that the Government had felt it was important to put the issue up for debate.