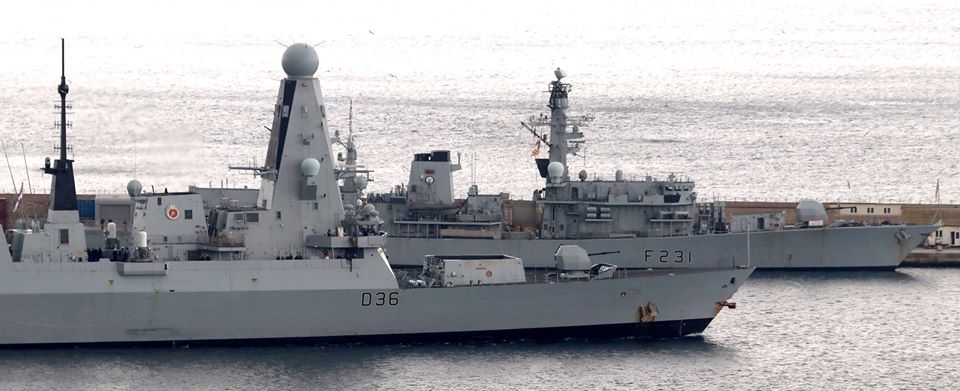 Military Movements Review: March
YGTV's article series continues - each month, David Sanchez will review military visits to the Rock. Drawing on his in-depth knowledge and photographic skills, the articles will provide readers with valuable background facts to the aircraft and vessels that pop into the Rock.
By David Sanchez
March will be a month that will go down in Gibraltar's history as one in which we as a city faced the greatest challenge in a generation. In what proved an increasingly dynamic and disruptive period, military visits did however continue.
Gibraltar, as many will note, is far less active than nearby naval bases. Our figures pale in comparison to those at Rota and even the civilian port of Malaga is getting more visitors than us per month at times. Still, whilst almost exclusively restricted to British naval visits for a number of external reasons, March saw one of those peaks which we must enjoy as the troughs are all too deep.
We were treated to the sight of two Royal Navy warships of two different types visiting at the same time. On the 13th the Type 45 destroyer HMS Defender called in and secured alongside 41 berth ('The Tower'). She was transiting homebound after a lengthy and once again successful maritime security deployment to the Persian Gulf. These large, highly capable vessels are very likely the finest anti-air warfare platforms in the world for the moment and are a fan favourite among enthusiasts and spotters.
She was joined on the 14th by the smaller, but still elegant form of the venerable Type 23 frigate HMS Argyll which had sailed on an extended deployment. Argyll is a long-serving and hard worked frigate which has enjoyed many a visit to Gibraltar during her career in the Royal Navy and it was good to see an old friend again. Berthing at South Mole, onlookers were treated to the rare sight of one of the Royal Navy's longest serving warships passing close abeam to one of their newest ones. Both ships represent the cutting edge of anti-air and sub surface warfare and was a tonic after a challenging few months at sea.
In the air, nothing has changed yet again. The usual mix of transport aircraft paid visits starting with A400 ZM413 visiting on the 10th and returning once again on the 16th. For a brief period there were two A400s at South Dispersal when her sister airframe ZM417 paid a short visit on the 22nd whilst '416 was still on the pan.
Our old workhorse the C130 Hercules also graced us with a visit on the 13th in the form of ZH889. The splash of green making a welcome change from the monotony of the barley grey scheme sported by so many A400s!
It pains me to report that despite the global crisis triggered by the COVID-19 pandemic and despite the excellent international cooperation between nation states in combatting this issue on Sunday we suffered an incident which must surely rank as one of the most insensitive in recent years if not decades;
The Spanish Navy offshore patrol vessel SPS Atalaya thought it fit to make an incursion during the late evening prompting the Royal Navy Gibraltar Squadron to have to despatch its units to see off the unwanted visitor. Listeners on Channel 16 heard her crew assert that she was sailing in Spanish waters. It is my personal view that now is not the time to make sterile, intimidatory political gestures. There are better, more important things to do for a platform like her.
This stands in sharp contrast to the excellent work being done by British Forces Gibraltar on all fronts during this challenging time. I would like to take this opportunity to pay tribute to them all, from the highly visible logistical assistance given to the GHA by the Royal Gibraltar Regiment to the work being done behind the scenes. The broadcasts by the Commander British Forces are always a measure of focussed calm, control and common sense. If only other armed forces could learn from that!
By all accounts, April will likely be one of the most challenging for our city. Faced with an epidemic and placed on lockdown it is up to all of us to observe the rules, follow the advice of experts and keep our eyes on the goal of limiting the spread of this disease and protecting those most vulnerable. I wish my readers all the very best and hope they keep safe. The coming period may very well likely see an understandable suspension of military activity but if any does occur, I will be here to report it and where possible, provide images from my own home and whilst observing the rules of social distancing.
Keep well, stay safe and stay at home! Better times will come!
David Sanchez is a local military enthusiast and photographer with a degree in International Relations and Strategic Studies.