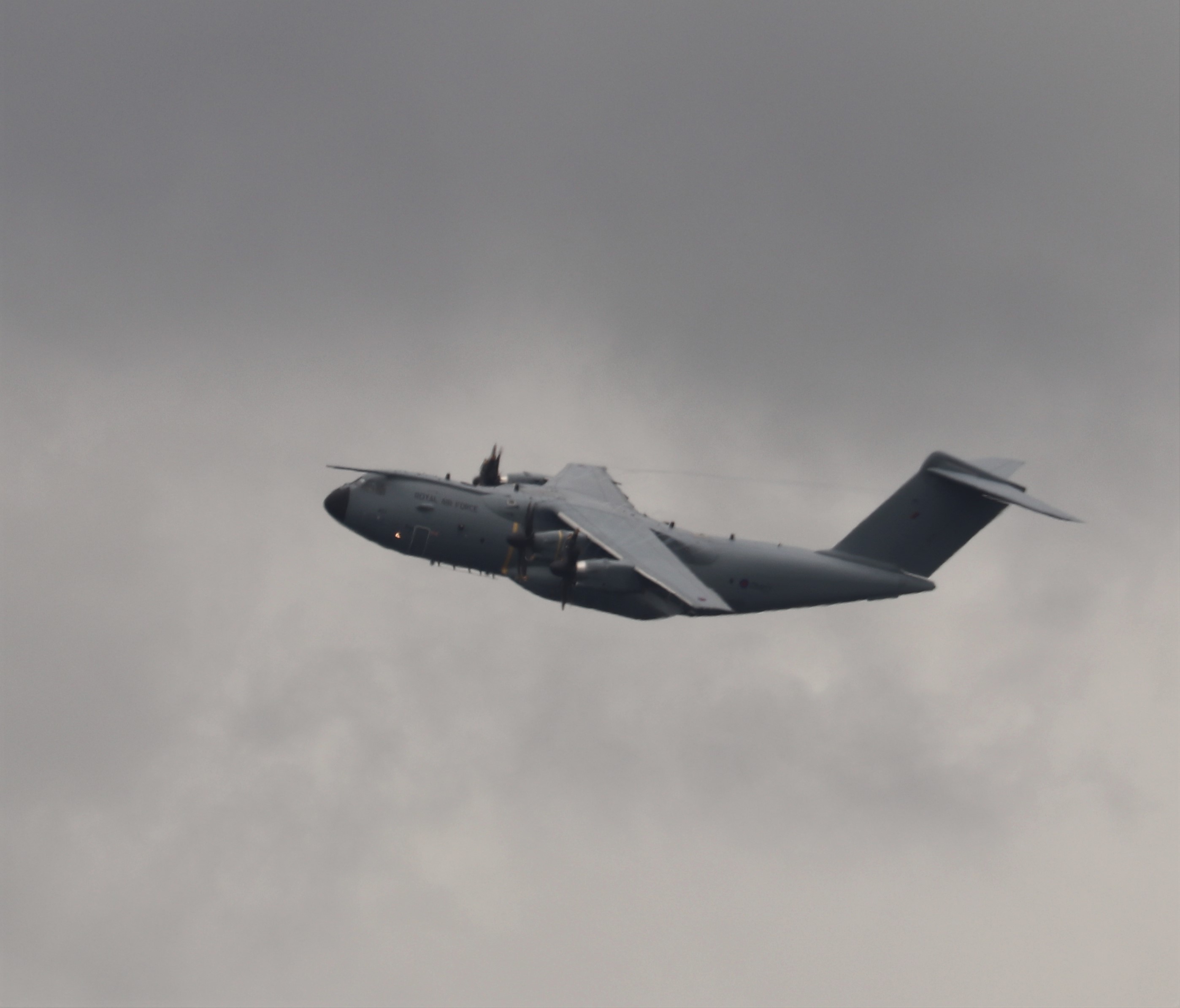 Military Movements Review: April
YGTV's article series continues - each month, David Sanchez will review military visits to the Rock. Drawing on his in-depth knowledge and photographic skills, the articles will provide readers with valuable background facts to the aircraft and vessels that pop into the Rock.
By David Sanchez
As we live through our first full month in lockdown, there has not been as significant a drop in military movements to Gibraltar as one would suppose. Plenty has happened in and around our territorial limits to keep the enthusiast happy and in at least one case somewhat frustrated!
A very interesting April can be characterised by a few less than obvious but nonetheless interesting visitors with the United States military once again making baby steps towards making their much-missed presence felt once again.
The visits began on the 6th with the large United States Department of Defense vehicles carrier Liberty Passion loading 4x4 vehicles at North Mole. This seems to be a reasonably regular feature and is good news financially as we all strategically speaking for the city. Although looking for all the world like one of the regular vehicles carriers that call for bunkers in the Bay of Gibraltar, in years gone by this role would have been fulfilled by a Ready Reserve Force 'grey hull' so it is a noteworthy incident.
On the 11th our second Department of Defense charter visit occurred with M/V Alliance Norfolk calling at the anchorage at the East Side transiting from Charleston to Valencia. 
The 14th saw the turn of our own MoD to send us a charter vessel with out friend M/V Eddystone berthing at the Tower (41 berth) for a lengthy visit. Her crew one evening joining in with clapping and sounding the ship's siren in support of our health and emergency service workers in a very touching tribute which was gratefully received locally. These large green and white vessels are the descendants of such well-loved forerunners as RFA Hebe and Baccus or RMAS Kinterbury which previous generations of Gibraltarian maritime enthusiasts remember with affection. It is safe to say that the 'Point-class' have maintained that tradition to the present day and long may they call at our shores. Having had the pleasure of going aboard several for various reasons I can say it is always a fantastic experience and their experienced and friendly crews relish a visit to our beautiful city.
Completing the visits at sea and ensuring a hat-trick of US DoD visits, the charter cargo vessel M/V Mohawk followed Liberty Passion's lead and similarly collected vehicles from North Mole on the 16th.
In the air the A400s kept coming thick and fast with ZM417 kicking off the month on the 8th followed by ZM407 on the 15th. She was joined by ZM402 the next day as the latter parked at the civilian apron giving us one of those rare sights of having two aircraft at once at RAF Gibraltar.
The only frustrating incident in the month worthy of note was very nearly the highlight. A United States Marine Corps KC130 Hercules, specifically '169533' of VMGR252 based at Moron gave us a medium altitude flypast in poor weather on the 21st. Many a camera lens was trained skywards and eager enthusiasts braved the squally showers in the hope of getting a rare shot of a now rare visitor. Sadly flight tracking websites then showed her leaving the area and returning to Portuguese airspace from whence she came. Much was made on the media regarding the reasons for this but that falls out of the remit of my articles. I will not comment but suffice it to say that it left a tangible feeling of frustration and a very firm hope that we will be treated to a closer look at this venerable aircraft belonging to a locally much-loved service in the near future. 
Not to be outdone however, the same machine was heard and later tracked online by the very adept local spotters at high altitude over the Rock around midnight the next day. Whether or not this was intentional we will never know but many a glass was raised for the health of the USMC!
Our final visit happened at the very end of the month with our familiar friend A400 ZM407 calling in on the 29th.
April also saw the anniversary of the Royal Gibraltar Regiment who celebrated Regimental Day on the 28th. Having many friends, colleagues and family members serving in all ranks in 1RG I would like to take this opportunity to wish them all the very best and long may this locally iconic institution grace us with their presence and selfless sense of duty and service to our city.
Lastly my thanks and undying respect goes out to those members of British Forces Gibraltar who are assisting in so many ways during these difficult times. It is often adversity that brings us together and builds bridges that will endure for years to come. Gibraltar would not be the same without you and once again we all stood shoulder to shoulder in a time of need.
As we head into yet another month of unchartered territory I will keep observing events from a safe, socially distant space and update you as always. Stay safe!