Apr 04 - Gibraltar World Music Festival Tickets On Sale Now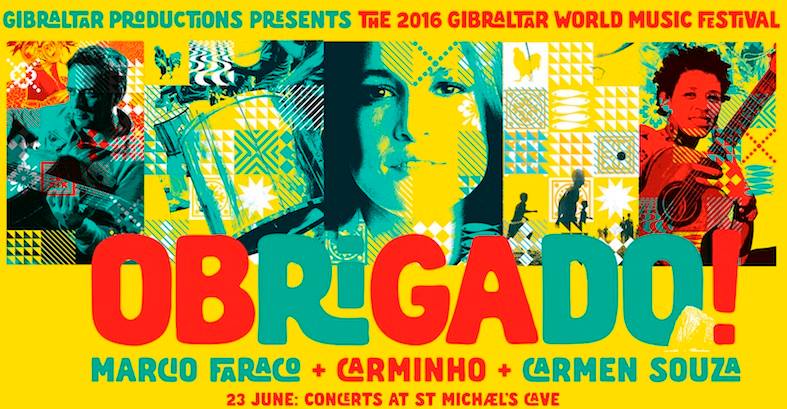 Tickets for the Gibraltar World Music Festival 2016 'Obrigado!' which will take place on Thursday 23rd June at St. Michael's Cave are now on sale at 92 Irish Town at the price of £30 (General Public) and £25 (Senior Citizens and Students).
Ticket prices include a free Shuttle Service to and from the St. Michael's Cave. The pick up will start at 19.00 from the Coach Park. Tickets must be displayed to allow entry to the St. Michael's Cave and to board the shuttles.
The concerts will begin with the Cape Verdean musician Carmen Souza together with Theo Pas'cal. This enigmatic singer has been named as one of the new generation singers to continue the successful path of Cesária Évora. Carmen Souza has become a true world music force and one of Europe's most in-demand jazz singers. Her music has a deceptive simplicity, a rare clarity, derived from a unique mix of influences from her Cape Verdean background to jazz and modern soul creating this beautifully vibrant, largely acoustic, accessible hybrid.
Marcio Faraco will be on stage next with his personal style gliding from samba to bossa nova, studded with inflections of jazz. Through his intimate words and rare poetic melancholy, Faraco has carved out a distinguished place for himself in the music world. Entirely lacking in cliché or affectation, his personal brand of Brazilian music is at once delicate and simple, primordial and refined, elegant and meticulous.
Last but not least the night will finish with Carminho. She was born and raised in the midst of Fado and this is why it is as natural to her as breathing. Carminho has being requested by the greatest national stages and also internationally, participating also in the awarded film "Fados" of Carlos Saura. The Portuguese singer is ready to keep spreading the sounds of fado worldwide and in Gibraltar in particular the 23rd June.
GWMF 2016 will have also Spotify as a 'streaming partner' giving to the audience a new way to enjoy and live this unique musical experience. Thanks to GWMF's partnership, Spotify users can browse all their playlists and also have the option to Follow Gibraltar World Music Festival profile (https://open.spotify.com/user/gwmfestival).
This year's World Music programme is delivered to Gibraltar under the patronage of the Chief Minister. This year's Festival will be sponsored by the Government of Gibraltar, the Parasol Foundation, Kusuma Trust, JYSKE Bank, SG Hambros Bank (Gibraltar) Limited, Hyperion, Deloitte, Cuca Beer, Hassans, Gibtelecom, Margaux Philantrhopy, EMID Gibraltar, Camara Municipal de Lisboa, Arquivo Municipal de Lisboa and Sunborn Gibraltar Hotel.
For additional information, follow GWMF on Facebook Gibraltar World Music Festival, and/or call 20068899. Alternatively send your queries to This email address is being protected from spambots. You need JavaScript enabled to view it..

{fcomment}