Feb 14 - Dolphins Youth Club get Monkey Educated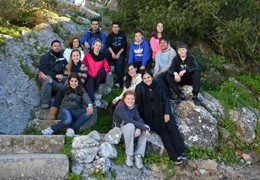 A group of eight members of the Dolphins Youth Club spent Saturday morning learning about Barbary Macaques with local Primatologist Brian Gomila, who created the Facebook page 'Monkey Talk Gibraltar'. Accompanying the group were several leaders and volunteers who are currently undertaking an 'Understanding Youth Work' training course.
The aim of the outing was for the members to gain a better understanding of Macaque behaviour. The group's interaction with the Macaques took place in an area close to the Cable Car top station which provided the youngsters with an opportunity to learn about the Macaques' social organisation, their feeding habits, territoriality, behavioural postures and communication.
By the end of the session, the group were more familiar with the Macaques and various myths were dispelled. The young people now look forward to undertaking a further session at a later date.
The club has thanked Brian Gomila and the management team from the Cable Car top station.
Dolphins Youth Club is always on the lookout for new members and volunteers aged between 11 and 18 years. For further information please contact the Youth Service on 20075020 or email This email address is being protected from spambots. You need JavaScript enabled to view it.