Mar 20 - Minister Licudi Visits School in Brazilian Favela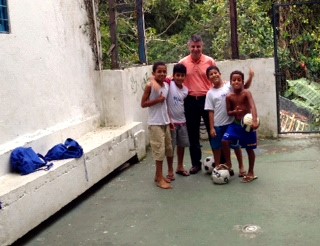 Education Minister, Gilbert Licudi, this week visited a community school in one of the favelas in Rio de Janeiro, during his time in the City, where he was speaking at the Hedge Fund Brazil Forum.
Mr Licudi visited the Para Ti community school in Vila Canoas where around 80 children from the favela come to take part in after school activities every day. Mr Licudi spent time looking at the work the children do and learnt about Para Ti, an NGO involved in the cultural and socio-economic development of the favela.
The numerous favelas in Rio house 1.4 million people, around, 20% of the population. Mr. Licudi was able to see the way of life in the favelas and to speak with several residents.
Commenting on the matter, Minister Licudi noted, 'I was impressed by the community spirit in the favelas and how volunteers come together in supporting the Para Ti project. Education must be at the centre of every community and it is heartening to see children being given additional support through this social project'.