Mar 21 - Government Lobbies in Brussels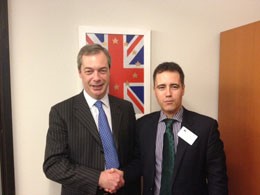 The Chief Minister, along with Dr Garcia, the Government's legal advisor Michael Llamas, and UK Government Representative Albert Poggio, are currently in Brussels where they are set to meet with a number of European Union institutions, including the Internal Market and Consumer Protection Committee of the European Parliament.
Speaking to the Committee, Mr. Picardo insisted that Gibraltar has an outstanding track record in product development and consumer protection measures, with an industry that has developed and led the world in consumer protection, ranging from sophisticated age verification procedures, spending limits, self exclusion and complaints management.
Mr. Picardo also raised the border delays issue with Leader of the UK Independence Party and MEP, Nigel Farage. The Chief Minister also contributed to this week's issue of 'Parliament Magazine' with an article reviewing the position o Gibraltar in the EU.